August 22, 2015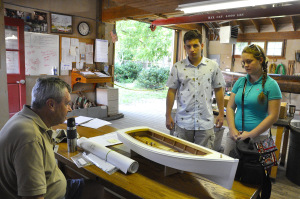 STEM intern students, Sam and Brittany, took a day off from working at Annapolis Hybrid Marine to travel south to Solomons Island and the Calvert Marine Museum. Their job this day was to visit with the craftsmen at the Patuxent Small Craft Guild and learn more about the joint project between Annapolis Hybrid Marine and the Calvert Marine Museum. They spent time meeting the volunteers who spend their Tuesdays and Saturdays at the wood shop building and repairing Chesapeake Bay traditional boats. Al Suydan, a long time volunteer at the PSCG showed off his model of a traditional Chesapeake Bay Scrape which is not going to be quite so traditional once it is built to full scale.

Working with Annapolis Hybrid Marine owners, Sally Reuther and David DiQuinzio, this traditional craft will have a propulsion system that is not only high tech, but with roots in a very old history.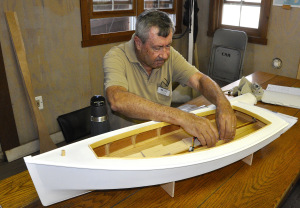 The 20' Scrape, shown here as a scale model, complete with its own small motor and prop, will have a Thoosa 7000HT electric propulsion system instead of the usual gas or diesel engine. Electric propulsion in boats has been around since the mid 1800's. There were electric boats at the Chicago Worlds Fair in 1893. How gasoline power won over electric power is interesting, but we all know the story - gas won out and electric boats and cars were left behind. Until recently! We are now seeing a resurgence of not only electric cars, but electric power in the marine world as well. Higher fuel prices, plus the desire to have a clean, quiet and environmentally friendly way of powering a vehicle on land or water has brought about a demand for this technology to be recognized as a perfect alternative to diesel or gas power in boats.
This project, being built by Al Suydan and the volunteers of the Patuxent Small Craft Guild is being tested now with the model. Watch our blog for the video of the water tests to see how well this boat handles with electric propulsion. The actual build will start in October at the Museum's wood shop and visitors are welcome to stop by and check out what is happening. Come by the Annapolis Hybrid Marine booth at the Annapolis Fall Sailboat Show to see the model of the Chesapeake Scrape and talk to Sally and David about the electric propulsion technology they offer. STEM interns, Sam and Brittany, will be back for the boat show to help out, along with two new fall interns, Ethan and Karly.

Sam and Brittany had a great day visiting Calvert Marine Museum and seeing the activity at the wood shop. It was just one more day in the life of a STEM intern for Annapolis Hybrid Marine.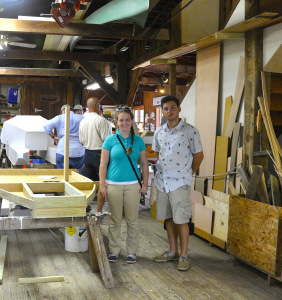 Posted by Sally Reuther.