SPIRIT 1.0 Electric Outboard
The Spirit 1.0 is equivalent to a 3hp gas outboard with a robust design for use on tenders, dinghies and sailboats. The SPIRIT 1.0 is the perfect choice for fishing and short trips. Weighing only 21.6lbs without the battery, the SPIRIT 1.0 is easily carried in one hand. The foldable tiller along with the detachable battery makes storage especially easy to manage.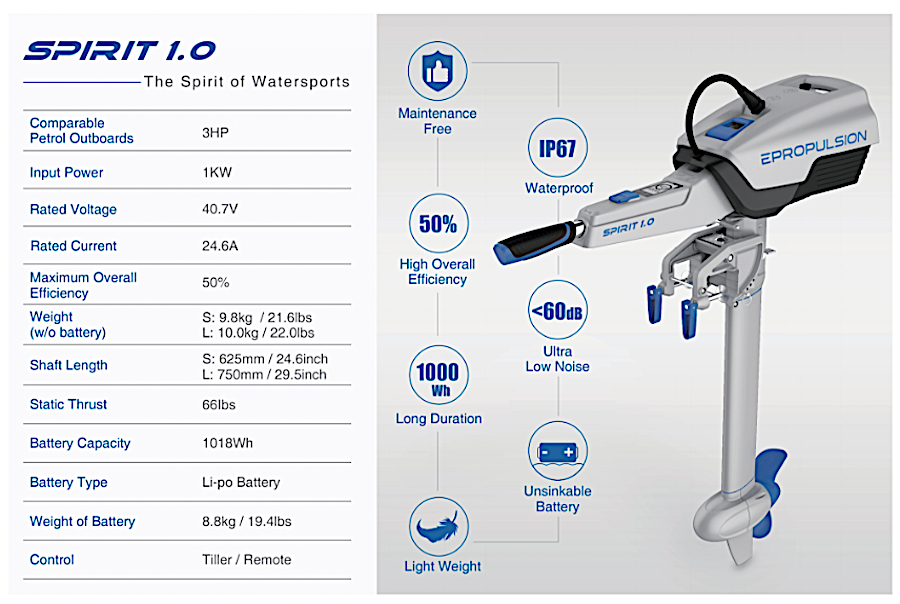 NAVY outboard series by ePropulsion includes the NAVY 6.0 and the NAVY 3.0. Both outboards look elegant, support remote or tiller control and deliver high performance. The NAVY 6.0 electric outboard delivers 6kW of input power which is equivalent to 9.9hp in terms of propulsion. The NAVY 3.0 delivers 3kW of input power which is equivalent to 6hp in terms of propulsion. Both outboards are ideal choices for sailboats that use outboard power instead of inboard. Lightweight, yet powerful, these electric outboards from ePropulsion are the perfect solution for a tender on a larger cruising boat. Contact Annapolis Hybrid Marine today to order your NAVY outboard solution.