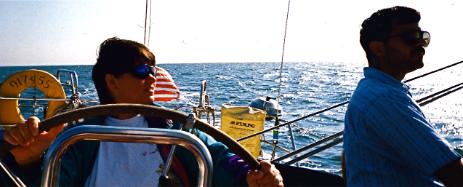 Our love of the environment and being on the water brought us into the electric marine propulsion business. Being able to enjoy sailing without the noise, vibration, fumes and maintenance woes associated with a diesel engine was a major factor in looking at electric propulsion for our own boat. When we found out there was a need for a U.S. distributor for the Thoosa systems, we agreed it was the right time to move into this field. David's degree as an electrical engineer and my skills with marketing, design and management were the perfect mix to begin Annapolis Hybrid Marine. We love helping fellow boaters find the joys of quiet, clean, green sailing and boating.

We began importing the Thoosa systems in 2010. Over the past several years we have seen significant growth in this field and more demand for an electric repower from boaters who are looking for a green alternative to their inboard diesel or gas engine. In September of 2013 we became the North American distributor for Oceanvolt saildrives. Recently we have added BellMarine systems and Transfluid systems as part of our offerings. We have a strong desire to do our part to help clean up our waterways and make being on the water a more enjoyable pastime for our customers.
Sally's Sailing Story
After meeting in the early 80's, David first took me sailing on a small daysailor while visiting friends in North Carolina. I fell in love with being on the water and hearing the wind in the sails. With our son, Michael, we sailed our first boat, a Schwill 16 around the sounds and coastline area of Avalon, NJ. From there we moved up to a Rhodes 22 and spent even more time on the water cruising the Delaware River, the upper Chesapeake Bay and the Jersey shore. I became so involved with sailing that I spent 3 years as an ASA Sailing Instructor for a local sailing school in the Philadelphia area. Our Moody 376, 'On to Fortune' was purchased in 1995, and I got my 50 ton USCG Masters License. In 1996 David took a partial sabbatical and we moved onboard, headed down the ICW and in to the Bahamas. Sailing came naturally to Michael and after returning home from our year long trip we decided to move to Annapolis where Michael joined the local high school sailing team. I began work as a yacht broker, while David continued his electrical engineering career from our home in the Eastport neighborhood of Annapolis.
Today, David is a consultant in electrical engineering, but spends a lot of time working with me at Annapolis Hybrid Marine to help our customers understand how electric propulsion can be a great option for their boat. Our son Michael is pursuing music and other interests, but still finds time to help us out at boat shows and talk to people about sailing and the advantages of electric propulsion.
Annapolis Hybrid Marine is ideally located on the Eastport peninsula across Spa Creek from downtown Annapolis, MD and the U.S. Naval Academy. Our office is in the historic Trumpy complex. Visit us and enjoy learning about a part of boating history!
Aerial view of the former Trumpy yard in Eastport
The Trumpy Complex today is home to a wide selection of marine businesses.
311 Third Street
Annapolis, MD 21403
North American Distributor for:
Clean eMarine
Thoosa & Electric Propulsion
Dealer for:
Oceanvolt
Electric Saildrives
AX Inboard Shaftdrives
BellMarine
Drivemaster Electric Propulsion
Inboards, outboards, saildrives
Polar Power Inc.

DC Marine Generators
Transfluid
Parallel Hybrid Systems
Lithionic Lithium Batteries

Sunbeam Solar Panels
Aquawatt Pod Drives
Saietta DC & AC Motors
Chesapeake 3 Props
Victron Energy
Mastervolt