Congratulations Sally on being named one of the TOP 100 WOMEN IN BOATING FOR 2022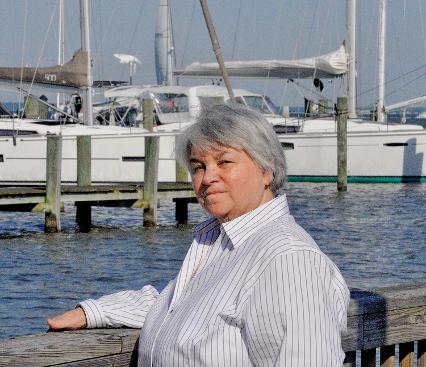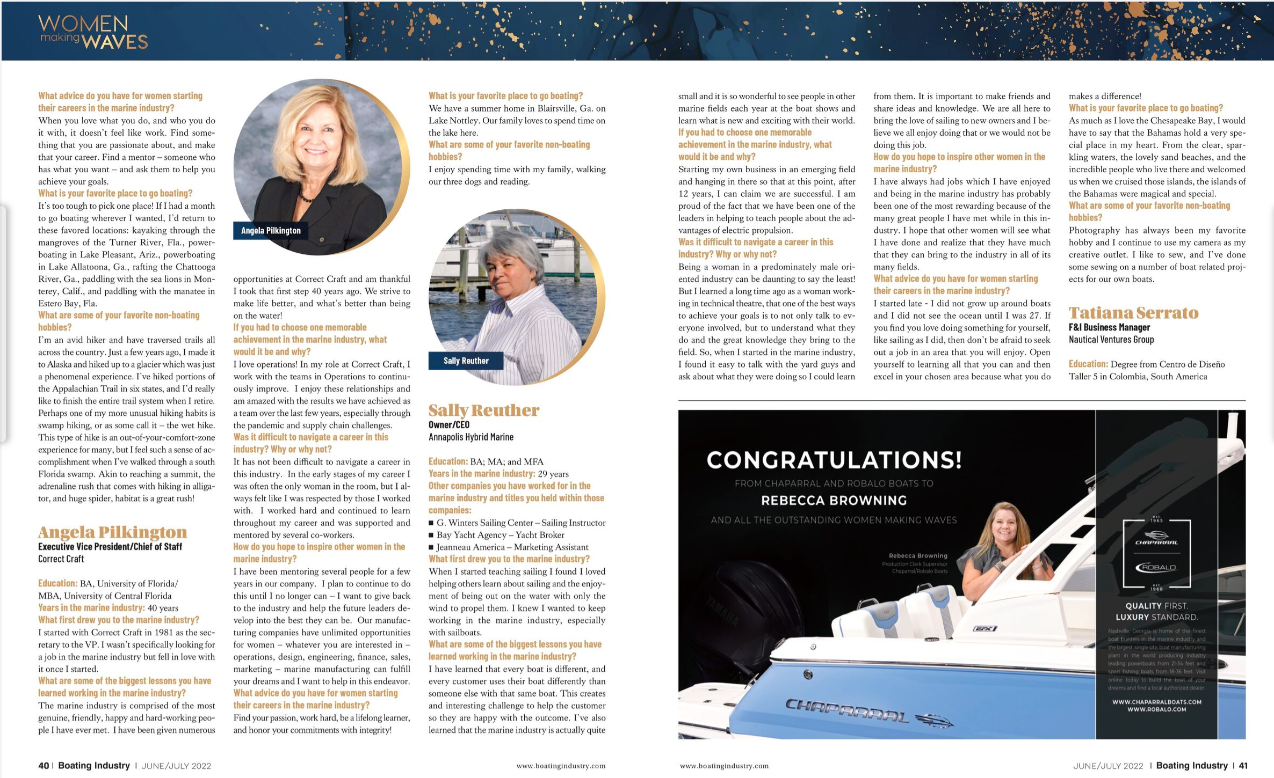 New for model year 2021, ePropulsion has standardized its full product line with hydrogeneration capabilities, a 48-volt architecture, safety wristbands, a new ergonomic tiller and direct-drive brushless motors for better performance and greater noise reduction.
An industry-first for electric outboards, and a major addition to the product line, is hydrogeneration capabilities. Whether an auxiliary motor for daysailers or an outboard for tenders, this powerful functionality allows the motor battery to be charged while sailing or towing at speeds between 4- and 10-knots.
Annapolis Hybrid Marine is currently taking orders for these new motors. Call us for pricing and details in order to get your place in line for a new ePropulsion electric outboard with regeneration capabilities for your sailboat or dinghy!
Annapolis Hybrid Marine - Our latest NEWS!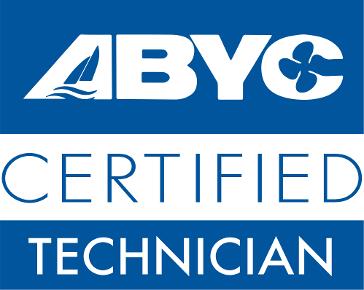 David DiQuinzio now holds ABYC Marine Electrical Advisor Certification!
Integrel Solutions is now available!
See it at our booth, A247
Miami International Boat Show, Feb. 13-17, 2020
Integrel has won! 2019 IBEX INNOVATION AWARD!
SUNBEAMSystem Solar Panels announces a new Carbon solar panel for biminis & dodgers!
Check out the video on the SUNBEAM Products Page & then email us for a quote!
NEW PRODUCTS!!!
Yes, we now have many more options for you to choose from when converting your boat to electric propulsion. Check out our
Products
page to see inboard & saildrive propulsion systems, electric outboards, solar panels, lithium batteries, and additional equipment that will make your electric boat well managed and efficient. We are enjoying the summer weather but will be back for the Annapolis Sailboat Show this fall on Oct. 10-14. If you can't make a show, just give us a call, or fill out our
contact form
. We have an electric propulsion solution for your boat - from small to big, sail to power!
Annapolis Hybrid Marine
now offers:
EP Carry is a revolutionary electric outboard motor and battery system. It offers an easier and cleaner power experience on small boats. Designed for tenders and dinghies for ship to shore use.
The EP Carry lets you travel to and from your cruising boat safely and in quiet comfort. With a portable, waterproof battery pack, there is less hassle and more fun. A total weight of 21lbs makes it easy to carry and mount on your tender or dinghy.
A TRADITIONAL CRAFT IS TAKING SHAPE
The Patuxent Small Craft Guild is well into the build of the traditional Chesapeake crab scrape that is blending old with new. A Thoosa 7000HT system from Annapolis Hybrid Marine will power this beautiful wooden boat. Launch is planned for April 2016 at the Calvert Marine Museum. Read the latest news article about this project: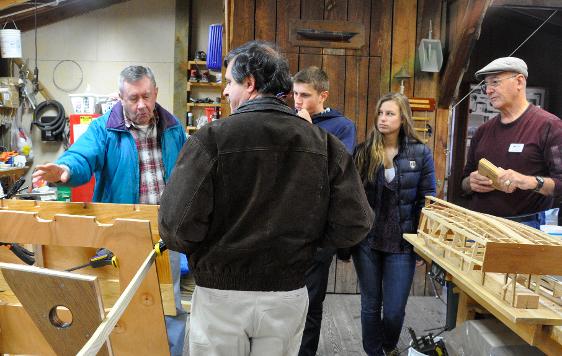 David DiQuinzio from Annapolis Hybrid Marine, along with STEM interns Ethan Falsone & Karley White, listen as Al Suydam, left, & Bill Wright, right, explain how the full size boat is framed. The builder's model is on the right.

We're still in The Maritime Republic of Eastport! And we are still in the historic Trumpy Complex. We are just moving 1/2 block away from our current office location in order to have a larger workshop space for assembling and testing our marine electric propulsion equipment, and a show room/meeting room space that allows us to show off a bit!
As of Sept. 1, 2015 Our new address:
Annapolis Hybrid Marine
311C Third Street
Annapolis, MD 21403
Same phone: 410-353-4348
Same email: [email protected]
Get in touch and come by to check out the new digs, see the Thoosa and Oceanvolt displays, and hear about new and exciting things happening at Annapolis Hybrid Marine!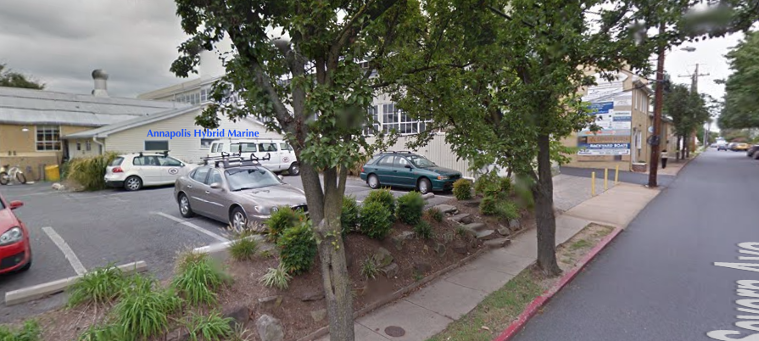 Harness the Power of the S.E.A.
(Newport, Rhode Island)- Imagine sailing a beautiful boat knowing that, even if the wind dies and you're forced to turn on the engine, peace and tranquility aren't lost. Furthermore, imagine that every minute sailing, the battery banks are silently charging, allowing you to later push a button to silently power back to the harbor.
A state-of-the-art electric propulsion and charging system from Oceanvolt is now being offered on the J/88, the 29' state-of-the-art performance daysailer from J/Boats.
"There's no quicker buzz kill for sailors than having to turn on the diesel engine," said Jeff Johnstone, President of J/Boats. "Most of our owners will tell you they sail their boats 90% of the time. We'd like to improve that other 10% and make it an environmentally-friendly solution for sailors who love the sea!"
J/Boats will be installing Oceanvolt's innovative, fully integrated S.E.A. system (Silent Electric Autonomy) on their first 2016 model J/88 slated to launch mid-summer in Newport, RI and then displayed at the Newport and Annapolis Shows. The S.E.A system is electric propulsion with a twist– it has full hydro-regeneration capabilities so that batteries are recharged while sailing, with added passive recharging thanks to 500 watts of high-performance Sunpower solar cells (the world's most efficient).
"For the past ten years, we have been developing innovative solutions for the electric/ hybrid power market in Europe," said Timo Jaakkola, President of Oceanvolt. "Based in Finland, a country renowned for developing leading edge 'green' solutions, our company has pioneered the use of electric power in keelboats that range from 24 to 55 ft and ranging from 3kW to 20 kW. We look forward to working with the J/Boats team on their J/88 project!"
Want to convert to your own J/Boat to electric? Contact Annapolis Hybrid Marine for a complete system quote!
STEM: Science, Technology, Engineering, Math
Annapolis Hybrid Marine has been working with STEM interns for the past several years. The STEM program helps to train students who are interested in engineering, math and science and guides them in finding the right college where they can further their careers in these fields. One of our student interns from last summer, Sam Anawalt, has been chosen to be a Peer to Peer Mentor in the STEM program. Congratulations to Sam, and read more about his story here: